This article was written by a member of the SheKnows Community. It has not been edited, vetted or reviewed by our editorial staff, and any opinions expressed herein are the writer's own.
"It's hard not to be romantic about baseball. This kind of thing, it's fun for the fans. It sells tickets and hot dogs. Doesn't mean anything." (Brad pitt as Billy Beane)
 The movie "Money ball" is the movie we all want to live in. It's got baseball, money, hope, failure, careers, dreams, stardust, sharks in business suits and of course Brad Pitt and Jonah Hill as the saving angels. Who wouldn't want to be a part of that?
 The 2011 movie made a lot of impact on many people all over the world. It tells the story of the Oakland Athletics baseball team and their general manager Billy Beane who are struggling to win the league with an extremely lean budget. For that mission Beane hires a statistician to be his assistant GM for assembling a competitive team by having a new approach for the game. I won't give away any spoilers for the people who haven't seen this movie yet but all I'm going to say is that they weren't doing too badly with the new method.
 Most of the viewers who watched the movie think that the moral of it is to inspire people to "think out of the box", not be afraid of what other people will think about you and your hard to swallow new methods, be true to yourself and so on. I agree with them but I think there is a bigger moral to it.
 In this movie the viewer got a front row sit to the backstage of the baseball industry. The most amazing thing that we see there is how quickly and effortlessly general managers are changing and sweeping players from team to team. One moment a player can play for the New York Yankees and the other moment for the Boston Red Sox. Nobody thinks of him as a person, maybe a father, or a man who's loved ones are in this place, it's all about the money.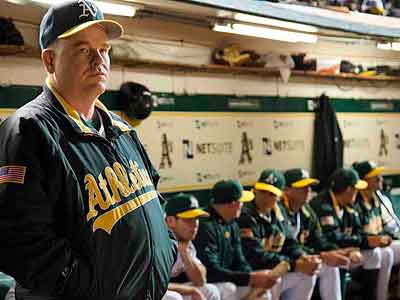 I assume that large numbers of people are wishing to be stars. It doesn't matter if it's a sport star, rock star or a movie star. Actually this thought of being a famous star goes through most people's mind. 
The thing is that people don't think about the negative side of it, they see stars as people who are always wearing expensive clothes and a bright white smile.  The fact is that most of the stars are always traveling; they always need to fly to the next place for shooting or performing. Maybe it's fun when you are young but when you're looking for stability it become really hard. You need to find a partner who will be willing to travel along with you, to get a proper education for your kids while you are on the road, deal with the longing for friends and family and so on.
 Another thing that people don't think about is that stars have a very little control of their lives. They are being told what to wear, where to go, what kind of diet they need to practice and even what to say and more important what not to say.
"Beware what you wish for " kind of summarizes what I'm trying to say here. Maybe your office day job is not that bad anyway, at the end of the day you can meet with your family and friends