This article was written by a member of the SheKnows Community. It has not been edited, vetted or reviewed by our editorial staff, and any opinions expressed herein are the writer's own.
Wow where was my head yesterday when I posted my blogs? I missed numbered them. Oh well at least I caught it and I can make it up today.
So this morning, I was looking at other postings on NaBloPoMo and I saw one that sparked me to do my own like it. In the post Dec 28....easy peasy by A.C. Melody, she talks about what she would do it if she won the lottery. Here you should check it out...
.( http://www.blogher.com/dec-28-easy-peasy?wrap=blogher-topics/blogging-social-media/nablopomo&crumb=113590 )
This got me thinking about what the hubby and I have talked about doing if we won the lottery one day. Which honestly we rarely play. Only buying tickets when the jackpot is high. We have big dreams.......
We have talked about moving but can't agree on one spot. He wants to go back home to New York but I'm a Florida girl with a slow Florida attitude. I have nothing against New york I just don't want to live there...ever. I feel it would make me more of an introvert than I am now. I don't like people, especially in crowd form. I prefer wide open spaces.
We have decided we are taking a year and traveling. We will home school and teach our children the value of other cultures. Giving them more education than any classroom ever could. And of course their college education would be set no matter where they wanted to go. So would all our nieces and nephews too. We want them to fly higher and further than we allowed ourselves.
But there is one thing that the whole family agrees on. It's something that it close to our hearts. And honestly I would love to do it even if we never won the lottery. But I sure as hell would be easier with it. We want to open and run a Pit bull rescue. But not just any rescue.... this one has 4 different divisions under one umbrella.
The main umbrella is the rescue of Pit bull, Pit bull mixes or any Bully breed for that matter from kill shelters around the country. We'd bring them to our facility and determine which of the 3 of the 4 divisions they belong in. We will go wherever a pittie needs us to go.
Now say we find a pitty that was surrendered by an owner and is found to be just you everyday average pit. We'd try to find that pit a home where they could be a part of a furever home. And yeah you don't get one of our dogs unless you intend on giving it a furever home. Dogs are not a temporary play toy. They are a lifetime companion. Your best friend. Your family member. So just had to get that out.
Now say the next group of pits we get, there's one that shows an extremely beautiful and sweet nature. It shows it has something special inside it. That pittie will be given a huge job as either a touch therapy dog for the elderly or children with cancer. Or they will be given to a Veteran suffering from Post traumatic Stress disorder. Let me tell you, there is nothing sweeter than the love of a pit. Those special ones who just love humans have a way of making you feel wonderful and warm in your heart. I know what it's like to be depressed and have a beautiful soul just lay her head on you and look at you as if she was saying it's all going to be alright. When you can bury you face in the neck of your dog and feel love rushing back into you, your feeling instantly change..
Now say we get one that is highly intelligent, loves to play games, listens to commands and has a nose for hide and seek.... Well that pit will be given a purpose of being a search and rescue dog. I mean pits have been used in hunting for their abilities to track and take down. We are just going to horn in on that tracking ability. They are terriers, which means they are working dogs, they need a purpose, a job.
The Fourth and final division is boarding houses around the country right outside places that have BSL. (For those who don't know what a BSL is......It is a Breed Specific Law. I will get into that later so you can understand why we are so passionate about this.) These boarding houses are for those who are willing to pay a small room and board fee to keep their dogs. These boarding homes will be open 24 hours /7 days a week, so that it doesn't matter when you want to see your doggie, you can come and spend time together. They would have all the wonderful love that you would give you dog from a trained staff that believes that nothing is better than a pttie.
Why the Pit bull breed you may ask......
Well 4 years ago we got a staffy/lab mix and I started learning about how if a BSL came to my community we'd lose our Shera, just because no one has ever looked at her and seen more than a pit/ lab mix, which she is not. Then in October 2012, I found the most beautiful Pit bull laying outside my house. I wont get into the story, if you want to read it..... here's the link to both my posts about my sweet boo boo Athena.
One was written with in days of deciding to make her ours. ( http://www.blogher.com/would-you-take-stray )
The other was written a year after.( http://www.blogher.com/best-darn-decision-ever )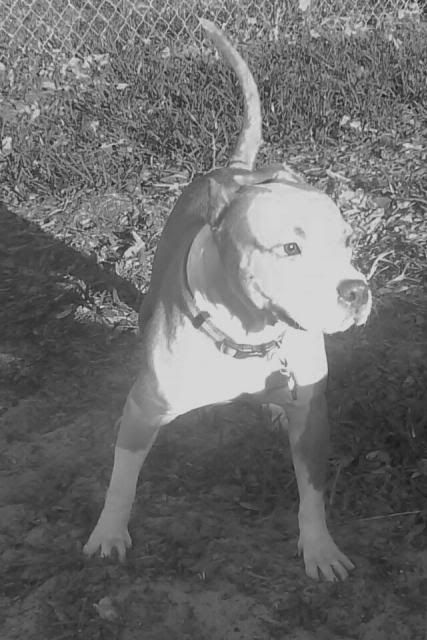 Check out how just a little love and understanding can change a life. Not only was hers changed , mine was. Because of the love I have received from this beautiful soul, I want everyone to see what I see in this breed. And I can tell you I am not the only one. I have had so many people tell me that they don't like pits or even dogs for that matter but they love my Athena. Yeah I sayMY because she may be a family dog but every dog has a special family member that they love more than the others. I am Athena's and She is mine. There is not a day that goes by that I don't cuddle and love on her. She even has a sweet smell to me. Kinda like my babies did when they were first born. You know what I mean, when you love someone you are attracted to their scent. And I am in love with my Pit. She is my best friend.
I don't know what I'd do if a BSL came to my area. Here is the run down of what BSL is......It is when the leaders of a community gets together and decides to say that a specific breed is dangerous and vicious. They decide, because a few bad owners, that the good owner shouldn't have them either. So they pass a law stating that in their area you can own that specific breed. And if you already do, they come and take your dog and put it down without ever meeting the dog. Because of these laws around the world innocent family members have bee taken and some have been slaughtered. Even in Ireland, they put down one dog named Lennox, who just looked like what they thought was a pit. They have these stupid lists of characteristics, what they think a Pit bull looks like, and if your dog looks 51 % or more like one, they take it from you.
It's Disgusting that people have decided that they have the right to decide that a breed as a whole is bad. They have been doing this for decades.....In the 70's it was the Dobermans that they targeted. The 80's it was the German Shepherds. The 90's it was the Rottweilers. And for almost 20 years it has been the Pit bull and those who look like it. And the funny thing about these laws is that they target dogs that aren't even the top recorded dog bite breed. That honor has always belonged to the littlest of dogs. Look it up!!!
So until the day that my boo boo Athena and misunderstood pitties around the world like her are safe, this will be our dream if we win the lottery.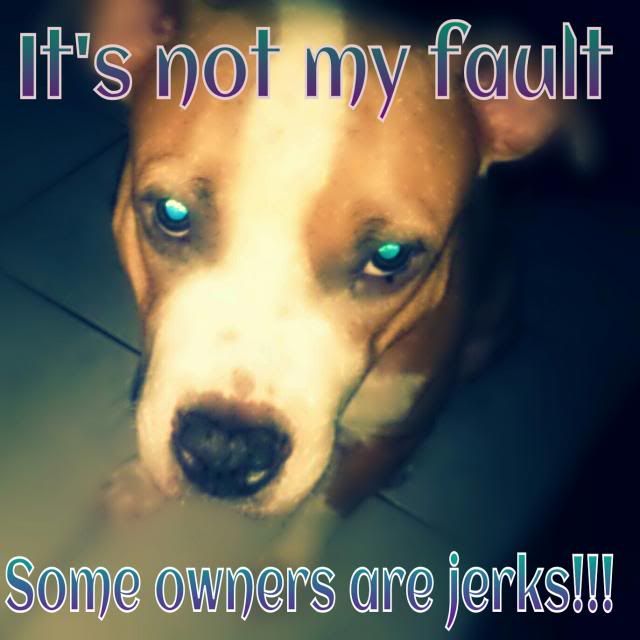 Punish the Deed NOT the Breed!!!!
Happy writing!!!!