This article was written by a member of the SheKnows Community. It has not been edited, vetted or reviewed by our editorial staff, and any opinions expressed herein are the writer's own.
This week a friend of mine asked which probiotics make good recommendations. Check out my "Wendie's 10" page for  other items you should always have on hand at home. Probiotics are living organisms that promote the growth of healthy, beneficial bacteria in our gut. They help build up our immune system, and help to maintain regularity. They are most commonly found in yogurts or in pill form, but I thought of another great recommendation: Kimchi.
Kimchi is a pickled Korean dish that is essentially fermented cabbage. It is mixed with a lot of spices and left to ferment from a few days to a couple of weeks. It is very spicy, and I love a good kick! Kimchi contains the bacteria lactobacillus kimchi, which is just one type of beneficial bacteria.
I found this at Trader Joe's.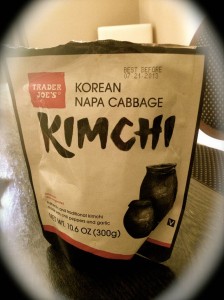 Kimchi from Trader Joe's
Here is a great tutorial on How to Make Your Own Kimchi.
One principle to keep in mind is that there are multiple types of probiotic bacteria--all of which can be found from different sources. So if you find out that you're not a huge Kimchi fan, check back soon for even more recommendations!
Have you tried Kimchi? How do you eat it? Please share your thoughts. 
-Wendie Schneider RDN, MBA "The Pantry Doctor"