This article was written by a member of the SheKnows Community. It has not been edited, vetted or reviewed by our editorial staff, and any opinions expressed herein are the writer's own.
Without a doubt, the question that I am asked most often about natural skin care is about what kind of sunscreen I use on myself and my daughter.   This is a bit of a controversial subject, as there are many big, well-known companies using all sorts of chemicals in their products.  With the increase of skin cancer, sun protection is more important than ever, but at what expense given the chemicals in sunscreen?
I will admit, I love being outside in the sun.  I could easily spend 8 hours on a beach.  Sunshine makes me happy.  My daughter loves being outside too.  She stands on her tippy toes every morning and tries to open the door to our deck so she can run around in the fresh air.  These last few months, we have easily spent upwards of 5 hours a day outside, between the beach, playground, walks, runs, teaching classes at the park and exploring the backyard.  Accordingly, sun protection is a high priority for me.
I believe that the best protection from the sun is the shade.  I know this sounds obvious, but many people don't think about it.  My daughter and I are never outside without our hats.  I have been trying to get her to wear her sunglasses all summer with limited success, but I always wear mine. My daughter's bathing suit is a "rash guard," with long sleeves and long pants.  Of course she adorable in her regular bathing suit, but I only put it on her if we will be in a completely shaded area.  I try to keep us both inside between 12 and 2pm, when the sun is particularly strong.
As for sunscreen, I have been experimenting with a few different brands this summer.  Based on my own research, I look for a certain set of characteristics and ingredients, including the following:
1. Avoid spray sunscreens:
Although they are easy to apply, they contain additional chemicals for the purpose of spraying.  Further, it is easy to inhale particles from these sunscreens, so they should not be sprayed on or near the face.
2. Avoid oxybenzone and retinyl palmitate:
Oxybenzone is a chemical that can penetrate the skin and trigger allergic reactions in certain individuals, and has been identified as an endocrine disruptor.  Retinyl palmitate is a type of vitamin A that may contribute to tumors when used on skin in the sun.  Preliminary studies have indicated that these ingredients may be harmful, although additional research is required before the extent of any danger can be determined.  Some experts believe that these ingredients are not harmful given the small amount in sunscreens.
3. Avoid added fragrances:
These just add more chemicals and potential allergens to sunscreen.
4. Look for "broad spectrum" sunscreen:
This type of sunscreen protects against both UVA and UVB rays, both of which are harmful to the skin.  The FDA requires labeling as to whether the sunscreen contains broad spectrum protection, so look for it on the bottle.
5. Look for sunscreen with zinc oxide or titanium dioxide as the active ingredients:
Zinc oxide and titanium dioxide offer excellent protection from the sun.  Both of these provide  broad spectrum protection, and don't break down easily.  Years ago, people used to put white, pasty zinc on their noses for full sun protection.  Although companies have developed zinc sunscreens to be transparent, I still find the sunscreens with zinc oxide tend to be a bit pasty.  However, zinc oxide has been found to be a relatively safe ingredient, and I try to use sunscreens that have it.
6. Check your sunscreen on the EWG website:
The Environmental Working Group (EWG) is a research and advocacy non-profit organization, whose website allows consumers to check sunscreens (and other beauty products) for its safety rating.  The site provides a rating for hundreds of sunscreen, which includes information on ingredients and any potential health hazards.  Although I find the site useful for looking up ingredients, its ratings should not be considered the ultimate authority when it comes to sunscreen.  As indicated on the website, a lot of the data on certain products is limited.  The site has also been criticized by the industry for overstating the risk of certain products.  However, I applaud the EWG for making ingredient lists accessible to consumers.  The website is: http://www.ewg.org.
7. Look for sunscreen with an SPF between 15 and 50:
Any sunscreen with an SPF of less than 15 is now required by the FDA to include a warning on the label that it will not protect against skin cancer.  So, don't use it!  The FDA has considered banning any sunscreen with an SPF above 50, as people tend to reapply less often, and there is no indication that they are more effective than lower products with a lower SPF.
8. Apply sunscreen properly!
This means reapply sunscreen at least every 2 hours, and make sure to cover your whole body.  Sunscreen needs to be applied more often if you are sweating or swimming.  The FDA now mandates that any claims on the label claiming that the product is "water-resistant" must state whether it is water-resistant for 40 or 80 minutes.  Take this into consideration and reapply accordingly.
Truthfully, my opinion is that its better to wear any sunscreen than none.  So, if your kids will only put up with the spray sunscreen, then use that.  Many of the studies indicating potential problems with sunscreen chemicals are still in their preliminary stages, and data is limited.  That said, there are some awesome natural brands made with safe ingredients, and those are what I try to use for myself and my daughter. Some of the sunscreen brands that I like are the Honest Company, Blue Lizard and ThinkSport.
I hope that this post provides some useful information with respect to ingredients and other considerations when it comes to sunscreen and sun protection.  Enjoy the rest of summer (and wear a hat)!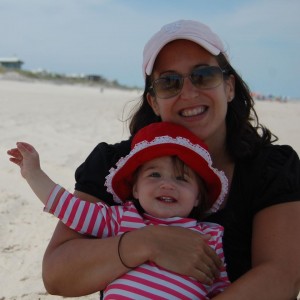 This post first appeared on my blog: http://www.beckytountas.com/?p=1390