This article was written by a member of the SheKnows Community. It has not been edited, vetted or reviewed by our editorial staff, and any opinions expressed herein are the writer's own.
In today's entry from The Great Plains Diaries of Harriet E. Whitcher, Hattie mentions working on her receipt-books:
1934, January 26, Friday Partly cloudy but warm, 58 above in p.m. Ben Clausen came to his traps this a.m. but not here to-day, was here yesterday but no stay. I just worked at receipt-books, for Will got a composition book in town yesterday and I am putting Meat Curing and all about meats in this book but paper is poor so not much good...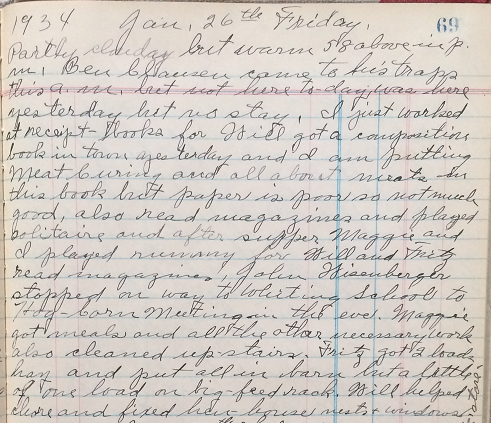 The origin of the term "receipt book" to mean a collection of recipes is interesting. First, the OED tells us that the word "recipe" was used since the 16th century to refer to "A formula for the composition or use of a medicine, a prescription; a medicine prepared according to such a formula," and "receipt" referred to "a statement of the ingredients and procedure required for making a dish or an item of food or drink." Thus, receipts were recipes, and recipes were for medicines as well as food.
In addition, in " A Collection of Choise Receipts: Networks of Recipe Sharing in Early Modern England," Erin Allaire-Graham explains that the etymology of "recipe" is one of exchange. Women's receipt books were more than personal cookbooks; they were also records of the recipes—receipts—they exchanged with other women and thus a source of cultural as well as culinary history.
See Allaire-Graham's Prezi presentation for images from a 17th century household receipt book.
This post was originally published at LisaRivero.com.