This article was written by a member of the SheKnows Community. It has not been edited, vetted or reviewed by our editorial staff, and any opinions expressed herein are the writer's own.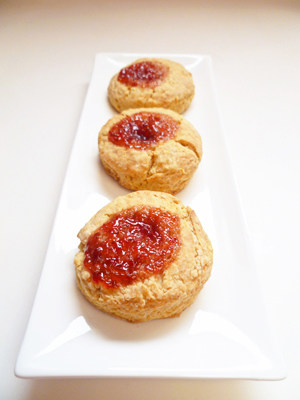 Yesterday afternoon was dragging, and the wee tot was really hanging on the side of my leg. It seemed I couldn't do anything without her pulling, grabbing, and whining while wandering around me. I was getting pretty tired of the rain outside, and the hubs and I weren't feeling like tossing her in the car and heading out for an adventure. So I decided some tasty baking was in order!
I gave my daughter a slice of toast the other day with a barely there coating of strawberry jam and her new favorite word quickly became "toast." I really can't have bread around the house (I end up eating half the loaf while standing in the kitchen with slabs of butter hoping no one will catch me). I love quinoa and try to find ways to sneak the uber-healthy grain into everything. I found a basic scone recipe and decided to marry the two – quinoa scones with a dollop of strawberry jam. My wee tot thoroughly enjoyed squishing together the butter and flour and then helping cut circles with the cooking cutter. And, she also added just a little drop of jam to the top of each scone – while enjoying a couple of spoonfuls, too!
Yum.
Ingredients
1 cup cooked and cooled quinoa
2 cups flour
1/2 cup cool butter
1/4 cup sugar
1 teaspoon cinnamon
1 teaspoon baking powder
1/2 teaspoon baking soda
dash of salt
1/2 teaspoon vinegar
1/2 cup milk
Your favorite kind of jam
How to make them
Measure all your dry ingredients and add them to a bowl and give a good stir. Make sure there aren't any lumps and bumps. You can also preheat your oven to 375 degrees Fahrenheit and line a sheet tray with a piece of parchment paper.
Now you can cut up your cool butter and start crumbling the dry ingredients and the butter together. I say ditch the fork method and get busy with your hands! Or, get the kids to wash their hands and have them squish and squash until your dough is the consistency of course crumbs.
Add the quinoa, vinegar, and milk and stir until incorporated. You don't want to mess around with the dough too much – it makes it more like little bundles of bread instead of little crumbly bundles of goodness!
Turn the dough out onto a lightly dusted work space and gently press and form the dough until it is about 2 inches think. Go ahead and start cutting out scones and putting them on your tray. You can use whatever shape you'd like – and this is another great opportunity to get your kids in the kitchen to help! Just make sure to leave a bit of space between each scone on your sheet pan.
Now make a thumbprint in each scone and fill with a small spoonful of your favorite jam. Once again, wonderful occasion to get the kiddies in the kitchen and scoop and drop their favorite flavor of jam!
Toss the scones in the oven to bake for about 20 minutes. Once they are golden brown and lovely, remove and let cool before eating. Really, make sure to let them cool. Hot jam isn't great on the tongue!
Enjoy