This article was written by a member of the SheKnows Community. It has not been edited, vetted or reviewed by our editorial staff, and any opinions expressed herein are the writer's own.
Italian Basil Pesto with pasta is the best!  It's easy to make and delicious.  You can easily make the basil pesto ahead and freeze it for one of those days that you need a go-to -meal.   What could be easier?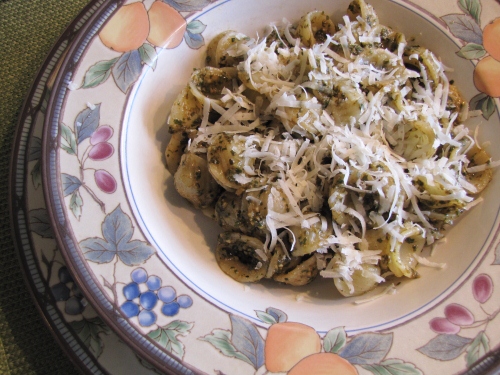 Image:  Courtesy of Jodee Weiland
One of my favorite Italian sauces to make for pasta is Italian Basil Pesto. When I was a child growing up in Italian family, I never had this sauce on pasta at home. I'm not sure why, but it may have had something to do with what picky eaters children can sometimes be and to be perfectly honest, I was the worst offender.
Nonetheless, as an adult, I came across the recipe for basil pesto and finally, decided to try it. The first thing I did was check out all the different recipes for basil pesto available to me. After searching through a number of recipes and variations, I finally came up with my own adaptation of this classic recipe through trial and error. Even my close friend, Ann, who hates pine nuts, loved my pasta with Italian Basil Pesto when I made it for her a while back. My husband and other family members love it as well. As a result, this recipe now brings back many good memories of meals and a bottle of Chianti shared with family and friends that I love.
Read more at Learn from yesterday, live for today...