We all have people on our holiday gift lists that seem impossible to shop for. Maybe it is your Dad (like me) or maybe you drew a name at work for the Secret Santa that you hardly know. It could be your sister-in-law. Whoever it is, if they love sports I have a couple of great gift ideas for you.
1) You all know that I am a huge NFL fan. I also happen to be a Buccaneers fan that lives in the Washington DC area. This means that I am not in the Tampa Bay television market and the only way I can see my Bucs play every Sunday is with the NFL Sunday Ticket. If your sports lover has DirecTV you can actually buy them their own subscription to The NFL Sunday Ticket. It isn't cheap, but it would be a creative gift for a the football lover on your list.
2) Does the person you are shopping for have one sports hero that they love above all others? Or do they just have a really great sense of humor? Have you ever heard of Fathead? You can get life sized sports figures (or racecars, or super heroes) that you can stick on your wall.
3) What about some autographed sports memorabilia?
4) Another great gift for a football fan that likes to read is the book "The Blind Side: Evolution of a Game" by Michael Lewis. I could not put it down. It tells the amazing rags to riches story of Michael Oher while analyzing how the game of football has changed and how it can change lives.
5) Here is a website devoted entirely to tennis themed gifts.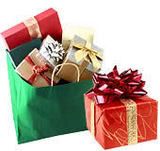 6) What about a golfer? You can find a ton of cool golf accessories here.
7) Do you want to buy your sports fan some tickets but you aren't sure when they are free to go to a game? Or maybe you aren't sure which game they really want to attend? How about a gift certificate just for tickets? Coast to Coast Tickets offers gift certificates anywhere from $25 to $1000.
8) Suite 101 has a list of eight gift ideas for the boxing fan.
9) What about a pair of skates? Inline, roller, figure, hockey... depending on the climate or the recipient.
10) This last one is really cool for a kid. You can get a kit to design your own soccer ball.
I hope this helps you find the perfect gift.
Contributing Editor Sarah also blogs at Sarah and the Goon Squad and Draft Day Suit.